Ron Capps and his NAPA Auto Parts Charger took the top qualifier spot during Friday's qualifying session for the NHRA Full Throttle Drag Racing Series, 25th annual Lucas Oil Slick Mist NHRA Nationals at Firebird International Raceway in Chandler, AZ. The weather for this weekend's event has been great, unlike the season opener at Pomona. The high temperature for Sunday's race is forecast to be 78 degrees and overcast, with high barometric pressure. A cool track with the forecasted weather should lead to some extremely fast runs.
The only car that didn't make the field was Bob Bode's Alard Machine Products Impala.
Racing Broadcast Schedule
02/22/2009 Repeat Qualifying 11:00 AM - 12:30 PM ET - ESPN2
02/22/2009 Eliminations 7:00 PM - 10:00 PM ET - ESPN2
02/25/2009 Repeat Eliminations 3:00 AM - 5:00 AM ET - ESPN2
Qualifying Results and First Round Eliminations Pairings
Driver Team E.T. / MPH
1. Ron Capps NAPA Auto Parts Charger 4.023 305.63
16. Jeff Arend DHL Solara 4.196 301.74
2. Mike Neff JFR/Ford Mustang 4.050 309.06
15. Gary Densham Asombroso Tequila Impala 4.165 296.50
3. John Force Castrol GTX Mustang 4.069 306.53
14. Tim Wilkerson Levi, Ray & Shoup Mustang 4.148 297.09
4. Del Worsham Al-Anabi Racing Solara 4.072 305.22
13. Cruz Pedregon Advance Auto Parts Solara 4.135 296.05
5. Robert Hight AAA of So. Cal Mustang 4.077 303.71
12. Ashley Force Hood Castrol GTX Mustang 4.129 301.40
6. Tony Pedregon Quaker State Impala 4.104 295.72
11. Jack Beckman Valvoline/MTS Charger 4.125 301.40
7. Bob Tasca III Motorcraft/Quick Lane Mustang 4.106 301.94
10. Jerry Toliver Canidae Pet Food Monte Carlo 4.122 302.08
8. Matt Hagan Brakesafe Charger 4.106 300.20
9. Jim Head Team Strange Apparel Solara 4.116 299.06
Jack Beckman beat Robert Hight to win his fourth Wally in Phoenix at the 24th annual Checker Schuck's Kragen NHRA Nationals at Firebird International Raceway. Beckman qualified his Don Schumacher Racing, Valvoline,Mail Terminal Series Dodge 15th on Saturday. Jack Beckman out ran Mike Neff, then Gary Scelzi, and Jim Head (in that order). To get to the final round, Robert Hight had to beat Gary Densham, independent Bob Bode, and Tommy Johnson, Jr.
Bob Bode deserves special mention, because his self-sponsored AR-BEE Transparent Products Monte Carlo has qualified and competed in both Pomona and Phoenix. He came back from a huge engine explosion on Saturday, that also destroyed the body of his car, to compete against Jack Beckman in second-round eliminations. His performance this season has been better than many big name racers so far. Bob is still looking for sponsors for the 2008 season. If you are interested in having your company's name, or even your own name, on the side of a competitive NHRA Funny Car, please go to Bob Bode's site to learn more about sponsoring his car for a race, or even a season.
Tim Wilkerson raced to his second consecutive No. 1 qualifying position of the Funny Car season Saturday, topping qualifying for the Checker Schuck's Kragen NHRA Nationals at Firebird International Raceway.
Phoenix, Saturday: For the second straight race, Springfield, Ill. Funny Car favorite, Tim Wilkerson captured the No. 1 qualifying position in his Levi, Ray & Shoup Chevrolet Impala. It was a great day for Wilkerson as he took double honors with the quickest run in qualifying, an impressive 4.775 plus the fastest run in Funny Car, an equally impressive, 327.03.
Due to yesterday's rain out...
Read the rest of Tim Wlkerson's team report at NHRA.com
Rain cancelled Friday's NHRA Funny Car qualifying, leaving drivers with only two Saturday sessions to get into the Checker Schuck's Kragen NHRA Nationals at Firebird International Raceway in Phoenix.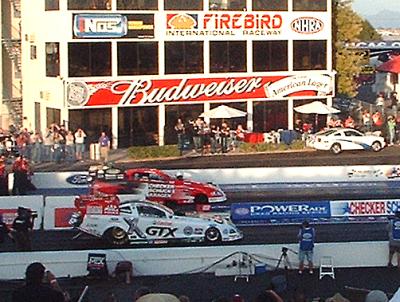 Tim Wilkerson impressively leads the field into eliminations on Sunday. With only two sessions to qualify, the list of those that didn't make the field is surprising. Del Worsham experienced the disappointment of not qualifying his Checker Schuck's Kragen sponsored Impala at his sponsor's event. Del wasn't the lone DNQ though. Ashley Force, Melanie Troxel, Bob Tasca III and Terry Haddock were also unable to qualify.
Heat shows up in a variety of ways. For some, heat means pressure – a mental game. For Tony Pedregon, heat was something he could feel.
Pedregon's Q Horsepower Chevy Impala SS exploded in the first round at the season-opener in Pomona, Calif., instantly propelling the reigning POWERade Series Funny Car champ back to the center of attention in a category already ripe with story lines. Since the accident there's been no rest for Pedregon...
Read full story at Thats Racin
After literally getting hot in California earlier this month, NHRA Funny Car champion Tony Pedregon gladly will settle for the figurative side. Healed and rested, Pedregon aims to defend his event title at Firebird International Raceway in Chandler, Ariz., at this weekend's Checker Schuck's Kragen NHRA Nationals.